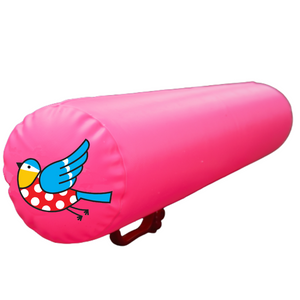 Official Bluetits Chill Swimmers branded float

Keeps swimmers visible in open water
High visibility - unique pink colour
In Case of Emergency contact details section
Lightweight - low resistance in the water
One way valve
Size deflated - 76cm x 14cm
Belt Length* - 58cm to 108cm / 23" to 42"
It's finally here! The Bluetits Chill Swimmers and Swim Secure have joined forces to create this exclusive pink Tow Woggle. The Woggle is a great all-rounder, perfect for those new to the open water and seasoned outdoor swimmers alike. Swim with it, float with it, duel with it ;-) 
The Woggle acts as a traditional swimming noodle, with the long shape perfect for hanging on to in the water for a mid-swim rest or chat. The Woggle can be easily deflated for easy storage.
The Woggle is towed behind while swimming on a short leash attached to a waist belt, with the high visibility colour making the swimmer visible to other water users. 
Use the back of the valve cap to deflate. To be used by competent swimmers only. The Tow Woggle has the Bluetits Chill Swimmers logo on one end and the Swim Secure logo on the other. Waist belt and leash included. 

* Please note that belts are modular - if a longer belt is needed simply purchase an additional black waist belt and clip the two together.